The proposed demerger of the hotel business will have a positive impact on ITC Ltd's financial return ratios, according to chairman and managing director Sanjiv Puri. He stated that while the conglomerate will be able to enjoy synergies with other businesses such as fast moving consumer goods (FMCG) as before, the demerger will improve ITC Ltd's financial ratios substantially. Under the scheme of arrangement approved by ITC board, ITC Ltd will hold a 40 percent stake in the new entity, while the remaining 60 percent will be held directly by the company's shareholders in proportion to their shareholding in ITC Ltd.
During an analyst meet held virtually, Puri elaborated on the benefits of the demerger. ITC's CFO and executive director, Supratim Dutta, added that the demerger will lead to a significant improvement in return on capital employed (ROCE) and return on invested capital (ROIC) for ITC. These profitability ratios help assess how efficiently a company's capital is used to run the business.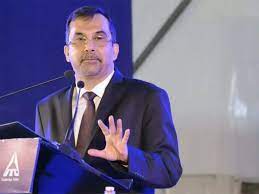 ITC has relied on the hotel business to support the expansion of its FMCG business, particularly in areas such as packaged food and personal care products. Puri confirmed that these synergies will continue after the demerger. He stated that ITC will receive a royalty from the new demerged company for using the ITC brand and other associated brand assets, with the details and amount to be decided subsequently.
The new demerged hotel entity will be an asset-light operation while benefiting from institutional support from ITC. Puri emphasized that this will provide stability for employees and stakeholders. He also assured existing shareholders that there will be no change in their economic interest.
The demerged entity will begin with a debt-free healthy balance sheet, allowing for flexibility in charting its growth. Puri indicated that the new entity will have the ability to raise capital through equity or strategic investors if necessary, but the asset-light approach means that capital requirements will not be as high as in the past. He also expressed confidence that the new entity will grow at a faster rate than before.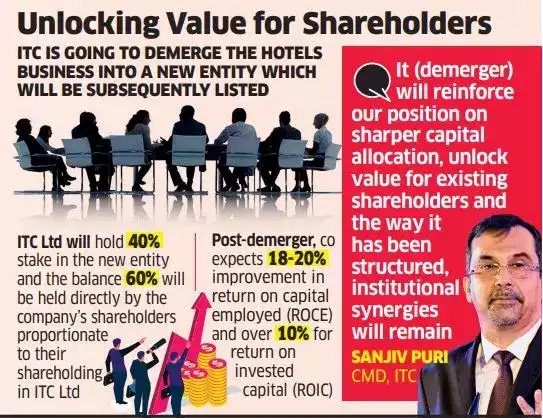 ITC has been pursuing an asset-light strategy for its hotel business since 2017, focusing more on management contracts rather than direct property investments. In the past 16 months, it has opened 18 hotels through such contracts.
Following the analyst call, the ITC scrip closed at a decline of 1.6 percent to Rs 464.55 at the BSE, compared to the 0.66 percent decline in the Sensex.